JAMES A. ROTH




I was born in Gettysburg Pa. in 1945 to G. Henry Roth and Sarah Agnes Stallsmith and enjoyed my childhood running around the Battlefield. Being that my parents were active members of the Gettysburg Fire Company, plus my Mothers father, Wilbur J. Stallsmith was Fire Chief in the late 1930's.

I grew up with an interest in the Fire Service becoming a junior member in 1958 and then when I graduated from Delone Catholic High in the Class of 1963 I joined the U.S. Navy and after a Class A school in Storekeeping I was sent to Keflavick, Iceland for a year of duty, then was assigned to an Ammunition Ship the USS Mazama AE-9 and in 1966 we were sent to assist the Vietnam Conflict by providing munitions to the various ships operating off the coasts of Vietnam. After our tour was over in late November we continued west bound and through the Suez Canal and across the North Atlantic we circumnavigated the Globe. Good Trip.

After discharge in June of 1967 I was employed by Adams County as a dispatcher in the old "Quick Call" County Dispatch Center in the old Middle Street Fire Station in Gettysburg. Then in September 1968 1 was employed as a Motor Pump Operator in the Hanover Fire Department. After a few years of taking many fire service classes at the State Fire Academy in Lewistown and many other locations and upon the retirement of former Fire Commissioner Roy Miller in December of 1978, I was promoted to the Commissioners position and following Roy footsteps I too continued leading the Hanover Santa Parade for the next 32 years until my retirement in April of 2011.

On the personal side I met my dear wife of 53 years while she was working at the old Annie M. Warner Hospital , now Wellspan-Gettysburg, as a Laboratory Technician and I was driving Gettysburg Fire Company Ambulance and we have two wonderful children Eric and Megan, and three outstanding 's grandsons, Noah, Samuel, and Ben and one young great grandson, Cooper. At present I am now putting my time in volunteering with the Hanover Area Volunteer Fire Rescue and can be found at our Greater Hanover Area Fire Museum with all the old time fire equipment.

I really enjoyed working with the Santa Parade Committee over the years and making sure that Santa gets to his Cabin on Hanover's Center Square for the children's enjoyment and for mine also and I want to thank all involved in naming me as Grand Marshal for the 2022 Parade.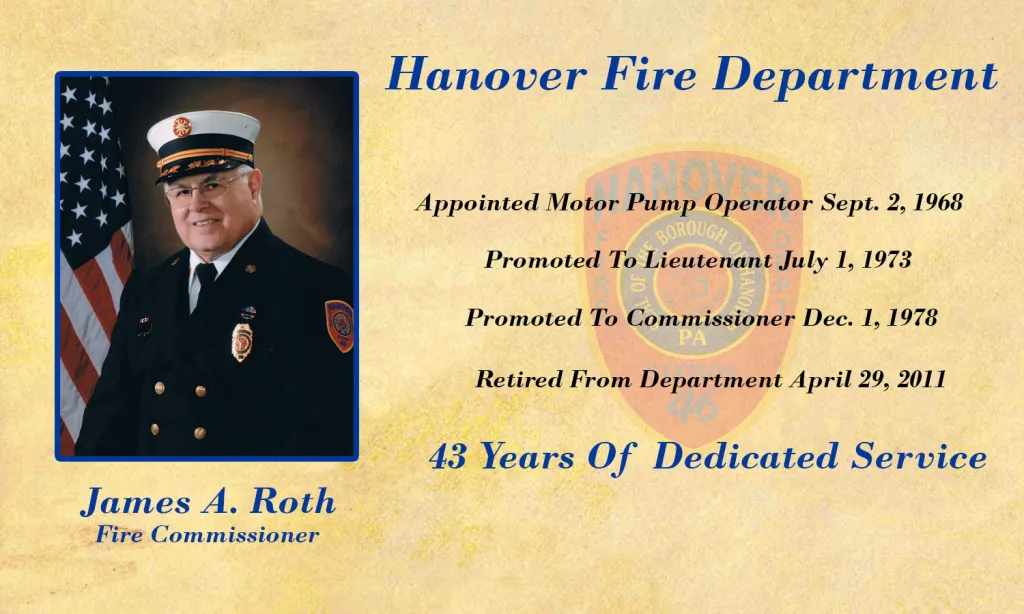 Retired Commissioner Roth
Current Chief Clousher
Parade Grand Marshal for 2022!
The Christmas in Hanover PA committee is both excited and honored to announce our very special parade Grand Marshal for 2022! The Hanover Christmas Parade kicks off at 9am on November 25, 2022 and will be lead by Hanover's beloved retired Fire Commissioner - James "Jim" Roth! Please help us congratulate and celebrate Commissioner Roth! After previously leading Santa to the cabin for 32 years, we are excited to welcome him back this year as our guest and honoree!
And a special thank you to Chief Anthony Clousher for presenting our offer to Commissioner Roth, when we stopped by the Greater Hanover Area Fire Museum!